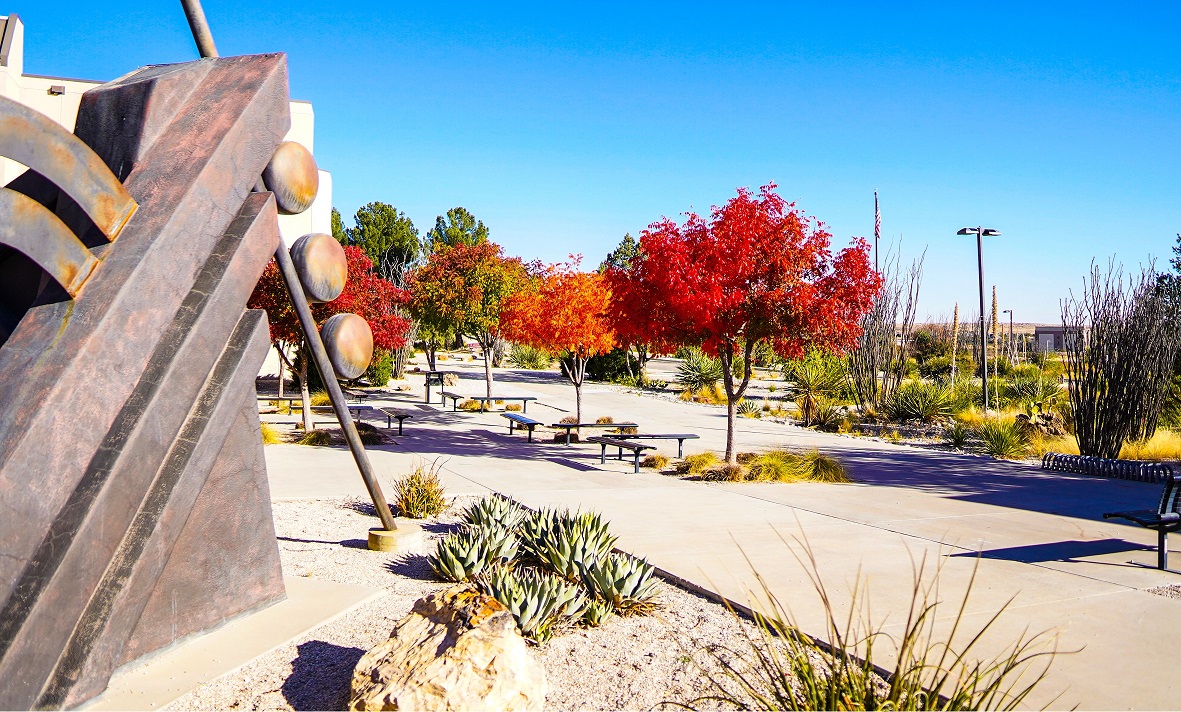 The first chapter of the story of Southeast New Mexico College is being written as you read this.
The prologue is quite a tale as well.  It started in 1950 when the state established the Carlsbad Instructional Center, the first two-year public college in New Mexico.  Twelve years later it became the New Mexico State University Carlsbad Branch.  The first building on the current campus opened in 1980, followed by an adjacent instructional center linked by an enclosed walkway eight years later.  Two more buildings followed, with the most recent, the Allied Health Center, opening in 2011.
Then the SENMC story begins.  Its authorization became effective in July 2021, setting the stage for the election of an independent five-member Board of Trustees.  They, in partnership with faculty, staff, and community stakeholders, led the change, culminating in a ribbon-cutting for the "new" college in April 2022.  Soon thereafter a search for a permanent president began, which resulted in the announcement of my hiring in October 2022.
I started earlier this month, but that is but a footnote.  The president does not make a college what it is.  I am merely a conduit and a conductor.  As a conduit, I channel the hopes and expectations of a community for the future of its citizens.  Carlsbad has become what it is as a result of the efforts of tens of thousands who have come before us, individuals whose hard work and vision have brought us to where we are today.  Education is an essential element, as only communities that work together, learn, and adapt can become all they can be.  Carlsbad exemplifies this—and I have been so very impressed by everyone I have met.  Your kindness and readiness to grow demonstrates that we are on the right path to a brighter future.
As for being a conductor, I use that in the orchestral sense.  Colleges are composed of talented individuals, each of whom play an essential part in the symphony.   Some have committed themselves to a discipline or profession, honing their knowledge and skills through communities of practice devoted to the advancement of human understanding and technologies.  Others bring their expertise to bear to a particular function of the college, whether it be our processes, our infrastructure, or serving our students directly.  In every case, I rely on them to apply themselves in service to our students and our region.  It is our faculty, staff, trustees, and stakeholders who make the college what it is.  So I conduct—leading us, in unison, in performing the pieces we have selected for our college, with each member of the orchestra contributing in their own way.
In my first few weeks, I have been meeting with employees individually and I am pleased to report to the public that not only is all well, but we are indeed fortunate.  We are blessed with a wonderful group of faculty and staff who put the success of students first.  They are home grown and diverse, long-time and new, a delightful and diverse mix of backgrounds.  It is exceptional to see a college transition to independence in under two years, but we are on track.  Registration for the fall semester will begin later this spring, and when that semester begins we will be on our own, separate from NMSU.  That will be the beginning of the second chapter—and we are just getting started!
Thank you for helping us realize the dream of our new college.  If you have questions or suggestions, contact me at kbeardmore@senmc.edu or 575.234.9211.  I look forward to working with all of you!