VA Services: Important Information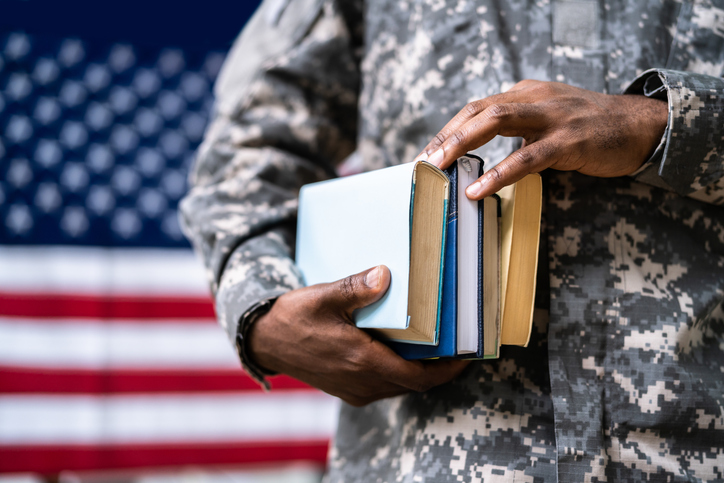 As of August 1, 2021, Chapter 33 students must verify their enrollment status each month to continue receiving their monthly housing allowance (MHA) and/or kicker payments. Students can verify their enrollment status on one of two ways:
Text message- Students who choose VA's "Opt-In" feature will receive a text message each month prompting them to verify their enrollment status.
Telephone- Students may call the Education Call Center (ECC) at 1-888-442-4551 to verify their enrollment status.
Serving Those Who Serve
Southeast New Mexico College (formerly NMSU Carlsbad) is a military and veteran friendly college which strives to provide the best possible service for our military, veterans, and their dependents as they pursue their educational goals. The SENMC VA Office promotes lifelong learning and professional development by offering:
In-state tuition rates for military, veterans and their dependents eligible U.S. Department of Veterans
Affairs (VA) education benefits
Easily transferable military credits that count toward degrees at NMSU
Advocacy from admission to graduation
Priority registration for military and veteran students
One-on-one academic advising to ensure courses are eligible for VA certification
Southeast New Mexico College degree and certificate programs are approved by the State Approving Agency Directory at the New Mexico Higher Education Department. Eligible students may receive education benefits from the U.S. Department of Defense or U.S. Department of Veterans Affairs.

The Southeast New Mexico College VA Office's function is to serve as the liaison between NMSU students and the U.S. Department of Veteran Affairs (VA) in Muskogee, Oklahoma.
VA Education Regional Processing Office
P.O. Box 8888, Muskogee, OK 74402-8888
Phone: (888) 442-4551, Fax: (918) 781-7863
Call between 7 a.m. – 7 p.m. Central Time, Monday-Friday.
Automated Verification: (877) 823-2378
Detailed education program descriptions are available on the VA's Education Benefits page. If you feel you may be eligible for education benefits you should submit an application. VA will review your application and officially deny or grant benefits.
NMSUC VA Office duties include:
Certifying students for required courses which apply to an Associate degree or certificate program (courses meeting requirements for minors will be certifiable). Only courses required to complete the degree or certificate can be certified.
Working with students to ensure that overpayments are not created
Reporting adjustments of students' credit hours
Continuous communication throughout the semester to ensure student success
Responsibility of Students Receiving VA Education Benefits
Students must be pursuing a degree or certificate in a specific program to be eligible for benefits. Admission procedures for veterans and other eligible persons are the same as for all students. Students must submit their Concise Student Schedule for certification to the SENMC VA Office every semester.

Students using VA Education Benefits must notify the SENMC VA Office when any of the following occurs:
Dropping or adding course(s)
Withdrawing from course(s)
Withdrawing from the University
Discontinuing regular class attendance
Changing programs (academic majors)
Changes to personal information (name, address, phone number, etc.)
Any other information that may affect the student's academic or benefit status
VA education benefits are payable for regular attendance in courses that are part of the student's program (major) curriculum. VA education benefits are not payable for:
Classes not attended regularly
Repeating a course for which a passing grade was received
Classes for which credit is received through successful completion of a proficiency test or grade by examination
Classes taken on an audit basis
Classes that are dropped or withdrawn from
Classes taken that are not required for the student's program (major) curriculum
GI Bill® is a registered trademark of the U.S. Department of Veterans Affairs (VA). More information about education benefits offered by VA is available at the official U.S. Government Web site at www.benefits.va.gov/gibill
Contact:
Jeannie Nichols
Office of Financial Aid 
VA & Scholarships
Room: 107
Phone: 575-234-9226
Email: jnichols@senmc.edu